Quality in every tonne is also in every human!
Participate in the evolution of our industry, but above all, of our company.
Be happy and motivated at work
Join a supercharged and passionate team who collectively put in their efforts to achieve our goals.
Reach your full potential
Show us "what you got", the possibilities will surprise you.
Including life, disability, medication, dental and vision.
Employee Assistance Program
Be supported by a multidisciplinary team when it counts.
Generous daily rates are calculated based on project location and cost of living.
Social and sporting activities
Have fun getting together with colleagues other than at work.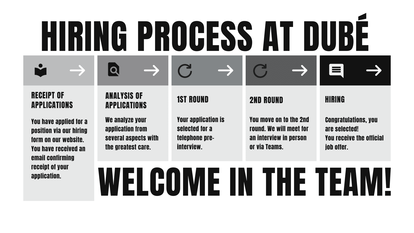 Our offices and workshop are located in Rouyn-Noranda, in the Abitibi-Témiscamingue region of Quebec. We have various projects in Abitibi-Témiscamingue as well as in northern Ontario.
How to be part of our team?
Do you want to join our team? Here's the best way to do it: View available jobs and apply directly in our careers section.
Do you have questions about the position? Indicate them in comments when sending your application. This will allow us to carefully analyze your CV and be aware of the questions you have.
For the sake of efficiency, we will only contact those selected. We will keep your application for a certain time, however, do not hesitate to send it again for the same position or any other position.
No posted position interests you, but you want to let us know your interest? Apply for a "Spontaneous applications" position!
Does Dubé offer benefits?
Certainly, Dubé offers several social benefits such as:
Group insurance - including life, disability, drug, dental and vision insurance.
Daily allowances - reimbursement of pension or mileage costs. *Some contracts only.
The RRSP - Registered retirement savings plan with employee contribution.
An EAP – employee assistance program.
Social and sporting activities - a Christmas evening as well as a summer barbecue, among others.
Promotional items in company colors.
What kind of schedules are offered?
Each construction site is different! Flexibility is sometimes required when joining Dubé. Some positions follow the same schedules over the long term, others change depending on the contracts.
We can find different types of schedules rotating 14/14 or 7/7, some are daytime only, some are rotating day/night, and some are nighttime only. We also have more conventional schedules such as 4/3 or 5/2.

Are there advancement opportunities?
Absolutely ! We have experienced strong growth in recent years and we are continually working to identify our future leaders. At Dubé, once you've "shown us what you've got", the possibilities become endless. You demonstrates leadership, are you proactive, invested and passionate? You are in the right place to progress in the company.